Reasons Behind Door Lock Failure in BMW
BMWs are beloved in the auto industry—they have earned the name "the ultimate driving machine" for a reason, after all. Vehicle owners have long admired the easy handling, fuel efficiency, reliability, and attractive design of BMWs. BMW has become one of the top-selling luxury car brands in the United States. Founded in 1916 with a headquarters in Munich, Germany, BMWs are now produced in seven countries worldwide.
Cars are complicated machines, and even the most well-made can experience common issues. BMWs are no exception, and there are some typical problems that owners might encounter. Let's examine some typical BMW issues and repairs, as well as potential courses of action for fixing them and keeping your luxury vehicle on the road and looking good.


Common BMW Problems
Often, BMWs will experience electrical problems over time, including but not limited to malfunctions of the windshield wipers, window regulators, and CCC iDrive. Engine problems can also occur, and are typically serious, requiring larger repairs—ignition modules, injectors or fuel pumps, or the clutch can all cause trouble. Tires and window regulators can also be problematic. Of course, many issues can be prevented with proper regular care and maintenance of your vehicle.
One of the most common problems BMW owners may face, however, is door lock failure. Some owners will find that when they use their key fob to lock the doors from a distance, one or more doors remain unlocked. There are several common reasons for door lock failure.


What to Do If You're Experiencing Door Lock Failure
One of the most typical reasons for door lock failure is a malfunctioning key fob. Fobs can simply run out of batteries, which is an easy fix. A slightly more complicated fix is if the fob is faulty and no longer programmed correctly. If the fob is not sending out the correct signal to communicate with the car, it will need to be reprogrammed or replaced by your dealer or authorized service center.
A blown fuse is another typical cause of door lock failure. If only one door is failing to lock, this is a potential indicator that a fuse may be the cause. Fuses can be fixed cheaply and easily, ensuring that your car and your belongings are kept safe and secure.
A bad solenoid can also prevent doors from locking properly. A solenoid is the part of an automobile that sends an electrical current to the motor, setting off a chain of events that eventually sets the engine in motion. Replacing a solenoid can involve removing the entire car door panel.
Failing wiring is another cause of door lock failure. Fuses and wiring are crucial to the continued proper functioning of your vehicle, and a broken or faulty wire can prevent the lock from receiving the power it needs to work properly. Especially in older vehicles, it is not uncommon for wiring to wear out over time and need to be replaced.
A bad door lock actuator can also cause door lock failure. This mechanism is responsible for physically engaging the door locks when the lock button is pressed on the fob. If you are hearing strange noises when trying to lock and unlock your doors, or if doors are locking and unlocking spontaneously, you may have a problem with your door actuator.
Any of the above issues are easily serviced at a licensed service center, guaranteeing you and your BMW will be back on the road in no time.


How Glenwood Foreign Car Can Help
Our expert service technicians at Glenwood Foreign Car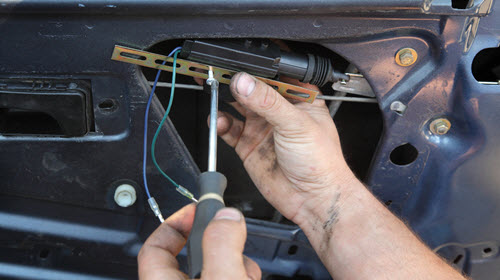 have been servicing the areas of Upper Makefield Township, Yardley, Newtown, and Morrisville, PA since 1977. Specializing in Audi, Mercedes Benz, Volvo, BMW, Acura, Infiniti, Nissan, Lexus, or Toyota models, we are the best choice for your foreign car repairs.
From basic maintenance to more in-depth repairs, here at Glenwood Foreign Car we offer it all, in addition to loaner car services so you don't have to bring your life to a halt while you wait on your car to be repaired. Call or stop by today to speak with one of our representatives so we can get you an appointment to check your door locks — after all, the safety and convenience of your BMW is important to you, so it's important to us.
Click Here To Return To Our Blog