Tips to Maintain the Thermostat Housing of Your Jaguar
November 3, 2019

Posted by

Frank Dischinger
Comments Off

on Tips to Maintain the Thermostat Housing of Your Jaguar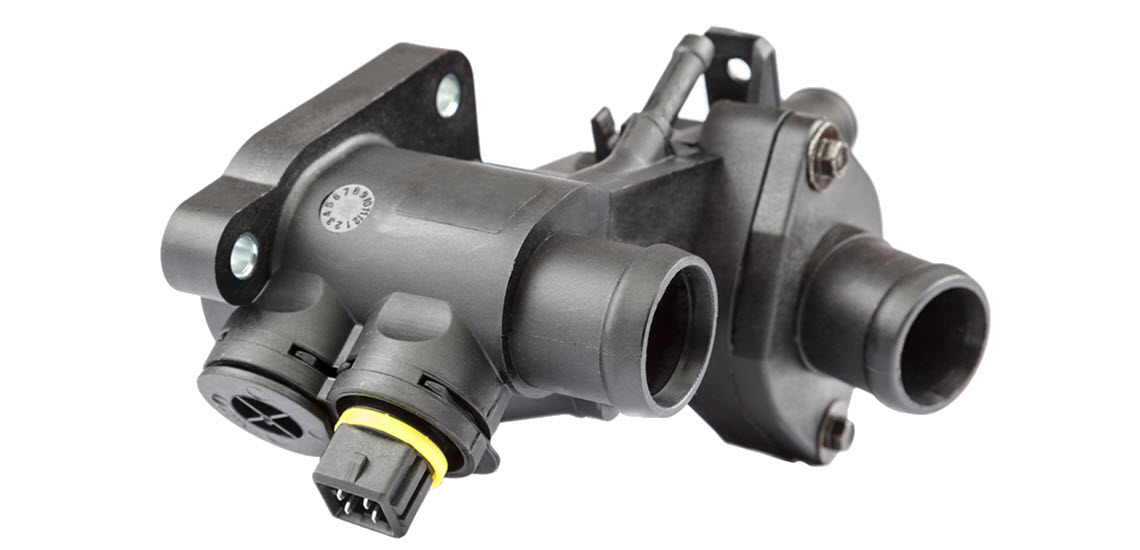 Every vehicle you will own in your life requires strict maintenance to function properly. If even one part goes unchecked, a domino effect could take place, damaging all other parts until the car breaks down entirely. This is especially true of Jaguar vehicles, because they are far more delicate than your average domestic brand.
One of the most vital parts of your car is the engine thermostat. It regulates the temperature of the engine by allowing coolant to flow through at the proper times. Without it, your Jaguar will overheat and eventually damage the engine.
That is where the thermostat housing comes in. The housing protects the thermostat itself from becoming damaged, and it provides a way for the coolant to flow into the radiator.
To avoid total failure of your Jaguar vehicle due to overheating, you will need to learn to recognize when the thermostat housing may be failing, what you can do about repairs, and how you can maintain it in the future.
Warning Signs of Failing Thermostat Housing
When the thermostat housing breaks, you will notice some pretty clear symptoms that indicate that you should take your Jaguar in to be inspected and repaired:
The coolant leak
This is one of the first signs that your thermostat housing has failed. This part is what helps the coolant flow through your engine. If you see a puddle underneath your vehicle or liquid dripping from underneath the car itself, you should inspect it. If the liquid is blue, green, red, amber, pink, yellow, or orange, it could be coolant. It will smell sweet. Gasoline is strong and acrid; you will likely be able to distinguish between the two easily.
Your engine is overheating
Without coolant, your engine can't maintain its optimal temperature. It will begin to overheat, which will eventually damage the engine beyond repair. You should keep an eye on your temperature gauge. If the needle consistently rises while you drive without hitting a plateau and leveling out, you may have an issue with the thermostat housing and even the thermostat itself.
How to Maintain Engine Thermostat Housing in the Future
If your thermostat housing is already broken, there is nothing you can do but get it repaired in the meantime. In the future, however, there are a few things you can do to cut down on the likelihood of your Jaguar vehicle overheating:
Have your car regularly inspected. It is important to make regular stops at an auto shop for check ups. A qualified professional will be able to spot things that you may not have noticed yet. They can help you fix it before the problem gets worse.
Talk to your mechanic about replacing an old standalone thermostat housing with an integrated part instead. In older Jaguar vehicles, the housing and the thermostat were kept separate, so it made repairs more difficult. With an integrated unit, you save time and money. Your mechanic will be able to take it all out in one piece instead of spending extra time replacing them individually.
Where to Go for Repairs
If your thermostat housing is already in disrepair, the latter tips only help you later.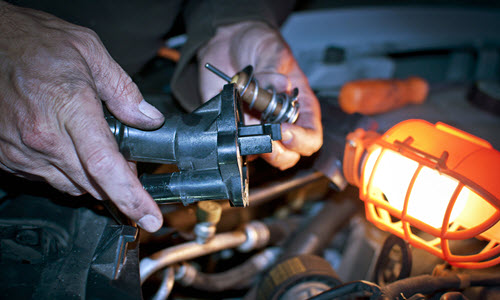 For now, you need to get yourself and your Jaguar vehicle over to someone who can help. Not everyone is prepared to deal with a foreign car such as yours. If you want to be able to trust your technician to repair the issue properly the first time, you need to see someone who specializes in working on Jaguars.
That is why you should stop by and let the qualified technicians at Glenwood Foreign Car help you. We have been in business for over 40 years. That is a lot of experience that our competitors don't have. Some may worry that older shops only use old techniques, but we don't. We use the latest technology and devices to help diagnose and fix any issues that may arise. You get the best of both worlds by trusting more experienced people with the best and newest tech available.
If you are in need of help in the following areas of PA, come by for repairs as soon as you can:
Upper Makefield Township
Yardley
Newtown
Morrisville
Click Here To Return To Our Blog