Is it Engine Mount Failure or Something Else in my Mini?
September 11, 2021

Posted by

Frank Dischinger
Comments Off

on Is it Engine Mount Failure or Something Else in my Mini?
Mini Coopers are customizable sporty vehicles that are fun to drive. However, engine mount failure (also known as motor mount failure) is something to be wary of if you own one.
The engine mount is a component usually made of rubber and metal which connects the engine to the chassis, or body, of the vehicle. In other words, the engine mounts are literally the components that hold your engine in place and keep it immobile as you drive up hills, over potholes, at 70 MPH, etc. The rubber portion helps reduce the harsh vibrations caused by engine operation itself.
Failure of these mounts can lead to engine failure as well, because the engine will be able to move around unsecured inside the engine bay. Fragile components within the engine could be damaged or drive belts might get stuck on something in the engine bay itself, rendering the car unable to drive and possibly leading to an accident, for example.
Given that the engine mount has such an important job, how can you be aware of impending failure to avoid potential catastrophic engine damage and/or a serious accident?
Signs of Mini Engine Mount Failure
Common signs the engine mounts are in need of replacement and their causes include:
Harsh vibrations felt by the driver during when the engine is running at idle. This is indicative of the rubber portion of the engine mounts being worn and/or destroyed and thus unable to soften the vibrations the engine naturally creates when running.
Loud banging, rattling, or clunking noises coming from the engine bay. This indicates there is no longer a secure connection between the mount and the engine, as the noises are caused by the engine itself in motion. The engine might slide, or even rise up and drop back down, leading to a very loud banging noise as it falls. Not only is this alarming but it can cause severe damage to the actual engine and its associated parts, which are not designed to be able to move freely.
The simplest reason that engine mounts fail is due to normal wear and tear. For example, a high mileage vehicle in need of service can develop this problem. All cars can have engine mount failure with enough use. However, other causes include improper installation of or even defective engine mounts. Accident damage, such as a collision with another vehicle, or even overly aggressive driving puts additional and often unnecessary strain on the car as a whole, especially the engine mounts.
If you have a higher mileage Mini over 100,000 miles, it's a good preventative maintenance item to have your engine mounts inspected, even if you aren't experiencing any of these signs. Having low miles, however, doesn't mean the engine mounts should be ignored or that any abnormal vibrations or noises are something other than the engine mounts.
If you do happen to notice any of these signs, it is an immediate indication you need to have your Mini serviced by a qualified service team. It is unsafe to drive the car if the engine mounts are not in functional condition so have it towed into us for your safety.
Glenwood Foreign Car for Your Mini's Engine Mount Failure
With over 40 years in business, Glenwood Foreign Car is the tri-state region's preferred destination for foreign car service, maintenance, and repairs, including Mini Coopers.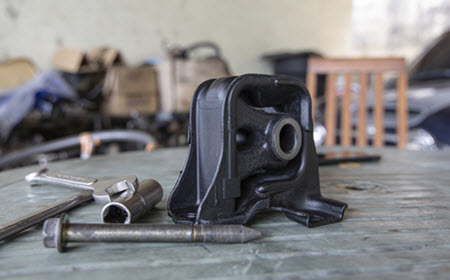 We are located in Yardley, Pennsylvania and are easily accessible from Upper Makefield Township, Newtown, and Morrisville, PA, with a convenient location close to US Route 1.
We pride ourselves on providing quick, friendly, dealership quality service without the dealership price. Our team uses the latest technology and diagnostic systems to get you back on the road in your own car as soon as possible. We also have a partnership with Bosch, which is the world's largest manufacturer of original equipment parts, so you can be confident you're getting quality parts installed on your Mini Cooper when you bring it to us for repair.
We provide a regional towing service, which is something you'll definitely want to consider if your Mini's engine mounts fail or begin to show signs of failure.
Glenwood Foreign Car is open Monday-Friday, 8:00AM – 5:00PM at 333 Woolston Drive, Yardley, PA 19067. Contact us by phone at 215-736-8888 or by using the form at our website.
Click Here To Return To Our Blog