The Leading Repair Shop in Yardley to Fix a Thermostat Failure in a Jaguar
October 15, 2021

Posted by

Frank Dischinger
Comments Off

on The Leading Repair Shop in Yardley to Fix a Thermostat Failure in a Jaguar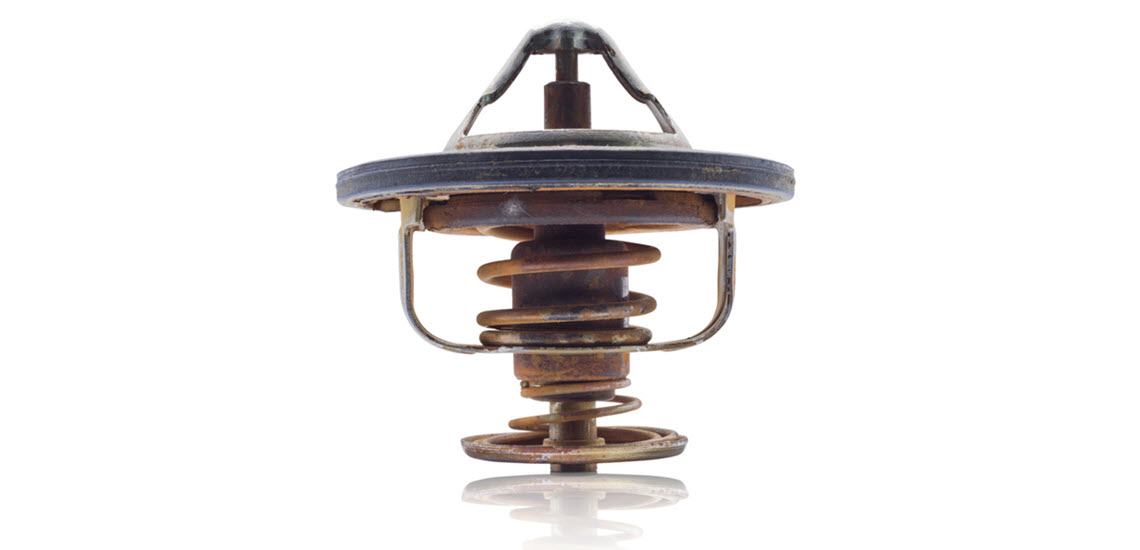 Jaguars are held to a much higher standard among drivers than many other vehicles because of their high-performance engine and luxurious comforts. While they are manufactured using the highest quality parts available, even these exceptional vehicles are subject to part failure. Below you will learn more about the function of the thermostat and what to do should you experience thermostat failure in your Jaguar.
All vehicles are designed and manufactured with a thermostat. The thermostat is designed to regulate the flow of coolant through the engine, which is an essential part of the functionality of your Jaguar. When coolant is unable to flow through your vehicle properly, the engine itself is negatively affected.
The thermostat is designed with several moving parts, including a metal rod that allows the thermostat to open and close when needed. When the engine is cool, the metal rod keeps the thermostat closed so that coolant is unable to flow. However, when the engine begins heating up, the metal rod allows the thermostat to open, allowing coolant to flow freely to keep the engine at a cool temperature.
Warning Signs and Symptoms of Thermostat Failure
There are several warning signs that have been reported to alert drivers to an arising problem with their vehicle. It is important that drivers do not ignore these signs and symptoms and have their vehicle inspected immediately by an expert mechanic.
Engine overheating
Jaguars are equipped with a temperature gauge on the dashboard that allows drivers to monitor the heat of their vehicle's engine. The needle on the gauge will move up, down, or stay in the middle to indicate whether the engine is too cold, too hot, or just right.
When the rod that allows the thermostat to open and close becomes corroded, the thermostat is unable to open properly. When this occurs, coolant cannot flow through the engine as needed, leaving the engine subject to overheating. An overheating engine that is left untreated can lead to complete engine failure.
Erratic temperature changes
When the thermostat fails and the coolant is not able to flow or stop flowing as needed, the temperature gauge on the dashboard will move around erratically. This is a tell-tell sign that there is something not right beneath the hood of your Jaguar.
Coolant leak
When coolant begins leaking from your vehicle, your first stop should be inspecting the thermostat. When the thermostat begins to fail or break down, the coolant is no longer held where it should be. Depending on the formula of the coolant used, you may notice green, yellow, pink, red, or even blue fluid leaking from your vehicle.
It is extremely important that you do not ignore any warning sign from your vehicle if there is a problem beneath the hood. Ignoring a coolant leak or failing temperature gauge can lead to catastrophic engine failure.
What causes a thermostat to fail?
Due to the location of the thermostat in comparison to the engine, it is constantly exposed to extremely hot temperatures as well as corrosive substances. Over time, the extreme heat leaves the thermostat unable to function properly, causes it to break down, or even breaks down parts surrounding it, leaving it unable to open and close properly.
Routine maintenance appointments can help drivers become more aware of their vehicle and what seems to be going on beneath the hood.
Glenwood Foreign Car
Glenwood Foreign Car is conveniently located in Yardley, PA. We have
been helping customers of Yardley and the surrounding areas since 1977, including Upper Makefield Township, Newtown, and Morrisville, PA.
We are an auto service center specializing in the service and repair work of foreign cars, such as Audi, BMW, Jaguar, Land Rover, Mercedes-Benz, MINI, Porsche, Smart, Volkswagen, and Volvo.
Glenwood Foreign Car is a BOSCH Certified Service Center. We provide customers with factory-grade service at an affordable cost. Our team is proud to offer our loyal customers loaner cars, available upon request, and a BOSCH service credit financing option. This financing option is a great option, as it offers an easy application process, no annual fees, and low monthly payments. Our team of highly trained professionals is here to help with all of your foreign car needs, so give us call today!
Click Here To Return To Our Blog