Why a Timing Chain Fails Prematurely in a Volkswagen
December 22, 2021

Posted by

Frank Dischinger
Comments Off

on Why a Timing Chain Fails Prematurely in a Volkswagen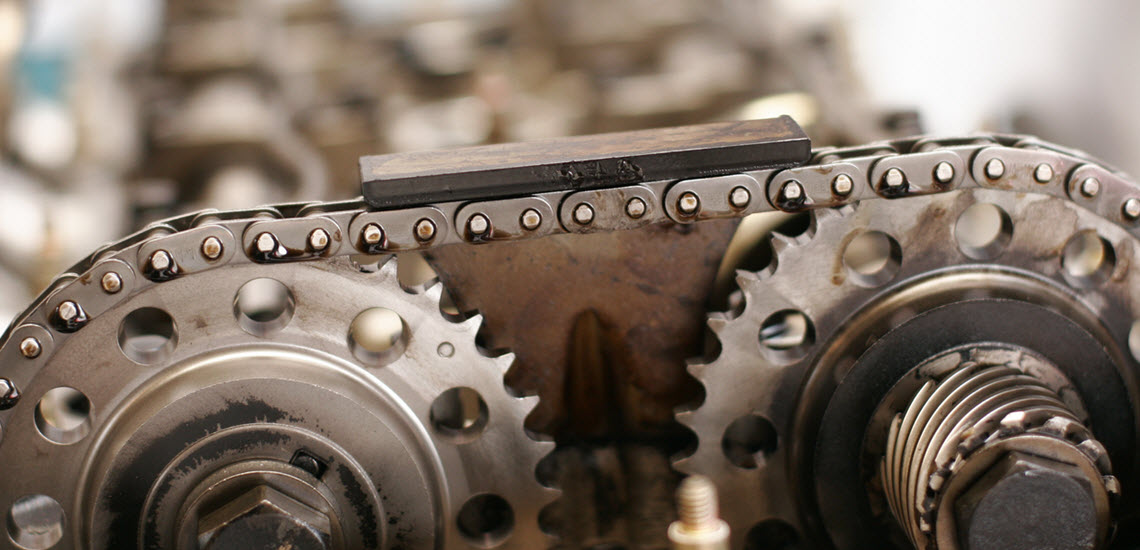 The timing chain is a crucial part of any combustion engine, and if it fails, it can cause catastrophic damage to your vehicle. It is common for Volkswagen cars to suffer from premature timing chain failure.
Timing chains, also known as timing belts, are built in the front of the engine compartment. They link the camshaft and the crankshaft together. In short, it controls the act of combustion in the engine.
If you own a Volkswagen, it's wise to schedule regular preventative maintenance and inspections. It's important to note that the timing chain provides engine power through the quick, centrifugal force applied to the components. Through this repetitive action, the chain can get worn out if it isn't inspected on a regular basis. The chain is also in an environment of intense and consistent heat, which can stretch it out and cause it to malfunction. Here are some tips below that can help you determine if your Volkswagen timing chain is failing earlier than expected.
Components Associated with the Timing Chain
Camshaft components
Cylinder head valves
Crankshaft components
Cylinder head valves
Rods
Pistons
Gears
Timing Chain tensioner
Pulleys
Factors That May Increase the Likelihood of Timing Chain Failures
It's natural for timing chains to eventually fail on your Volkswagen, especially if the vehicle is used in your everyday commute. Like most vehicle components, timing chains fail with increased use. The more worn out the timing chain is, the more dangerous it can be, most notably, when the car is traveling at higher speeds. Here are some related factors that increase the chance of premature component failure:
Your daily driving conditions, whether it's bumper-to-bumper traffic or interstate
The mileage of the car
Your driving habits, such as braking or accelerating quickly
Irregular maintenance schedule
The climate and the elements your vehicle is subjected to, like heavy snow and rain
The age of the vehicle
Performance Issues Related to Timing Chain Failure
Volkswagens are known for premature timing chain failure. The Volkswagen manufacturer has acknowledged this problem, but even through all the legal battles, they've done little to remedy the situation.
Unfortunately, the problem only seems more likely to manifest as the car ages and the mileage gets higher. If the problem isn't addressed promptly, a timing chain malfunction can lead to many problems. Issues such as frequent warning lights, problems starting the vehicle, general performance issues, or catastrophic engine damage come to mind.
Ignoring these signs could mean hefty bills. If your timing chain snaps, it could ultimately lead to permanent damage, which would make you unable to drive the vehicle. You must take note of the way your vehicle drives so that you can detect any changes in the timing chain's operation. It's critical to follow the maintenance guidelines in your VW owner's manual and schedule an appointment with a Volkswagen professional.
Your timing chain may be close to failing if you notice these signs:
Issues with steering or the car entering limp mode
Difficulty generating enough engine power
Engine misfiring
Poor engine oil quality
How to Stay Ahead of the Curve
Maintaining proper records and tracking important milestones of your vehicle's maintenance schedule is paramount to the longevity of your Volkswagen. Have your VW's timing chain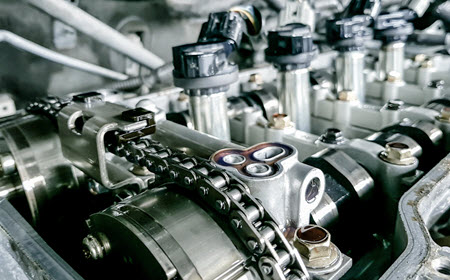 and tensioner routinely inspected. Schedule regular oil changes, which can prevent contamination and metal particles damaging the timing chain. If you notice your car behaving oddly, don't procrastinate, these issues could be related to premature timing chain failure.
We've been servicing cars at Glenwood Foreign Car since 1977. Our auto mechanics strive to provide excellent, professional service. Our staff repairs all makes of foreign cars such as Porsche, Audi, and Volvo using industry standards and quality parts. We are a Bosch Certified Service Center, and we work diligently to make our customers our #1 priority.
It's our honor to serve the Upper Makefield Township, Yardley, Newtown, and Morrisville, PA areas, so please call to schedule an appointment with us. Our shop is conveniently located on the corner of Trenton Avenue and Woolston Drive in Morrisville, PA. We look forward to serving you and thank you for allowing Glenwood Foreign Car to maintain and service your vehicle.
Click Here To Return To Our Blog